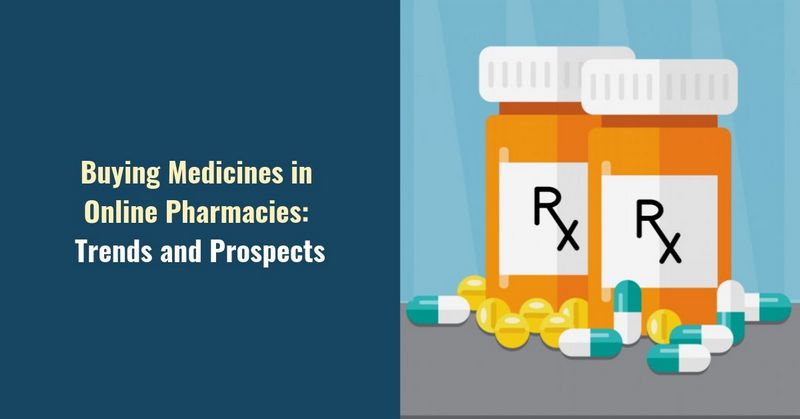 Nowadays, the popularity of online shopping is growing and gradually spreading to all new categories of goods. One such category is medications. Consumer research and analysis of internal data from search engines show that recently there has been an increase in user interest in finding and buying drugs, vitamins and dietary supplements online. In this article, we will look at the prospects for online pharmaceutical sales.
Research has shown that online pharmacies have good prospects for development. According to surveys, the percentage of users who are potentially ready to buy medicines via the Internet is high: today 71% of people consider buying any medicines online, and 56% consider the likelihood of buying OTC drugs online. At the same time, 45% of online users have real experience in buying medicines (including vitamins), and 31% purchased over-the-counter drugs on the net. And only 23% of users refuse to buy medicines online.
Another encouraging fact is the almost twofold increase in search queries related to the purchase of medicines online over the past year. In general, the number of such requests has been growing steadily since 2014. The Internet is becoming an important health consultant for users, 64% of users seek information online at the first symptoms of malaise.
What do consumers buy in online pharmacies?
Medicines are not a daily necessity, therefore, the purchase is not as frequent as in the categories of consumer goods, however, more than half of online drug buyers make purchases more often than once a quarter, another 31% – once every six months.
Most often, people purchase painkillers (52%), colds and antiviral drugs (48%), antipyretics (45%), cough medicines (43%), sedatives (37%), antibiotics (34%). Thus, delivery speed is of particular importance. Sometimes long delivery can be a barrier to purchase.
The research results show that the vast majority of users – 90% – know exactly what they want to buy: 41% also know on which site they want to buy the drug, and 49% are looking for the most advantageous offer for the items they need, choosing from a limited number of pharmacies. This is confirmed by the search data: the buyer is either looking for a specific remedy and information about it or knows exactly where to buy it.
Who buys medications online?
We'd like to pay attention to the profile of the online drug buyer. Residents of large cities tend to buy all kinds of pharmaceuticals online, and this correlates with the overall picture of online trading.
It is generally accepted that the most active age group on the Internet is young people, but it turned out that drugs are most often bought by people who fall into the middle age segment. The median age of such buyers is 37 years.
So, a typical online drug buyer is more likely to live in a large city, his or her income is above average, he or she is an experienced online shopper and takes good care of his or her health.
Those who buy drugs on the Internet are most often adults who feel responsible for the health of their family members. People buy medications for themselves, for children, parents and other relatives.
Medicines are not the category through which users enter the world of online shopping. Those people who buy drugs online are already experienced buyers. The formation of the habit of buying goods online is gradual. Got used to making purchases on the Internet, users eventually try to purchase goods from other categories, including medications.
Barriers and opportunities to overcome them
The experience of people shopping online shows that the first step is crucial in overcoming the barriers to buying goods on the net. After making the first purchase, people get rid of negative attitudes and at the same time can appreciate all the benefits of online shopping. If the first experience is successful, then another one follows the purchase, and then habits are formed. This is confirmed by research and internal data: for example, 89% of customers who have experience buying drugs online plan to continue to purchase drugs in online pharmacies, and 92% are ready to buy vitamins and dietary supplements.
It is important to note that even those users who currently deny such an opportunity for themselves share the benefits of buying drugs online. This means that potential benefits can be used as incentives. For example, a trigger for a purchase may be the ability to order a product that is not available in offline pharmacies.
Of course, drugs are not an entry category for online shopping. However, it is important to understand that many fears that are typical for potential buyers in the pharmaceutical category relate to online shopping in general. They can be divided into four categories: distrust of online purchases, concerns about quality, difficulties with delivery and return, and fear of online payments, lack of opportunity to consult a pharmacist, unsuitability for relieving acute conditions.
Understanding which barriers hinder the purchase, some online drugstores offer potential buyers guarantees where they doubt. For example, Trust Pharmacy offers free and quick consultation with a pharmacist as the most convincing measure. The importance of a possible consultation with a specialist is easy to understand since a very large percentage of consumers admit that in case of illness they do not go to the doctors and either are treated by basic remedies from a first aid kit or they look for information on the Internet. State regulation is a factor of particular importance in the category of drugs: when it comes to health, people prefer not to take risks, and certification can contribute to much greater trust.
Besides, online pharmacies attract customers by ordering discounts and bonuses. In general, discounts and bonuses are important for online trading, as they bind the user to a specific seller and stimulate new purchases. 22% of customers who buy pharmaceuticals online said that discounts and bonuses stimulate them to continue shopping, and 46% said they were a prerequisite for the success of online pharmacies. However, they are unlikely to act as a trigger for those who do not plan to make purchases online: only 16% of such users said that discounts and bonuses can make them change their minds.
Conclusion
Research results show that online shopping in the field of pharmacy has a high development potential: the percentage of users who purchase medicines on the Internet is high, and the number of queries in search engines is growing steadily. The barriers to online drug purchases are largely related to online shopping in general. To overcome them, pharmaceutical companies use the following approaches: they work on delivery speed, offer bonuses and discounts, expand the assortment, offer online consultation. All these methods give a perfect opportunity to increase the number of customers.