Nowadays, more and more customers purchase medications using the Internet, in particular — Trust Pharmacy. Our store offers a wide range of health-related products at lower prices. Recently, some myths appeared around our company. It turns out that some people are still afraid of ordering drugs through our online pharmacy because they think every such website is a scam. Today, it's high time to dispel a few popular myths.
Dispelling myths around ordering drugs online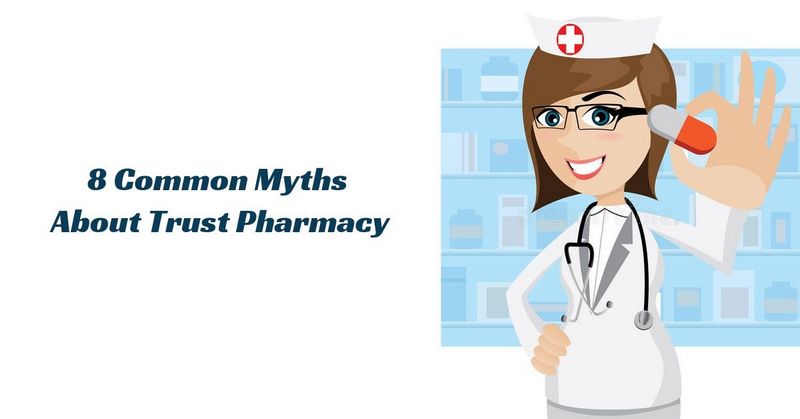 Myth 1: Trust Pharmacy sells low-quality medicines
That is not true. With an online order, the quality of the products does not suffer because you order the same drug that is stored in a pharmacy with a physical address. You just make an order for the goods online. In addition to the appropriate quality, this also applies to expiration dates, storage conditions, etc.
Myth 2: It takes too long to receive the order
Actually, going around the city pharmacies in search of the necessary medicines may take much more time. And if some drugs are not available in your city, the search is extended indefinitely. Besides, we do our best to process and ship all orders as quickly as possible.
Myth 3: We sell counterfeit products
Our pharmacy has strict control over the drugs it offers on its website. We offer generic products but it's important to know that generic medications are not counterfeit! They have the same active ingredient, high quality, features and effect as their original branded counterparts.
If you have any doubts about the quality of the medications offered on our website, you can contact us and ask to show the certificates of quality. Our representative will give you all the necessary information about the origin of the presented medications.
Myth 4: It is expensive to buy drugs online
Our pharmacy sets the lowest prices for drugs. Besides, we offer many analogs with the same active ingredient and you can immediately choose the most suitable option. Besides, you can save even more by using various promo codes and buying items from the Special Offers section.
Many of our drugs are generic. In fact, this is a copy of the original drug with the same active substance. And the prices for generic drugs are 20-40% lower compared to the originals.
Myth 5: It is difficult to make an order
No, on the contrary, using our website is easy! It has an intuitive and simple interface. You select a product, add it to a virtual shopping cart, fill in your address and contact details, pay for the goods online and select the preferred shipping option! That is al! Fast, easy and convenient!
Placing an order through our website takes a few minutes. And remember, if you have any questions or difficulties when placing your order, you can always contact our customer care department and our manager will answer all your questions.
Myth 6: If my parcel is lost, I won't get a refund
Trust Pharmacy has a delivery guarantee, which means we always make sure that the goods are delivered to you. If medications do not arrive for some reason, don't hesitate to contact our customer care department, We will either reship your order or offer you a refund. You can also get a refund if your parcel arrives damaged or some items are missing. Such cases are however very rare since we work with the most reliable delivery services.
Myth 7: Third parties can get access to my personal information
On the contrary, when making an online order, you can remain confidential. We value your privacy and understand that customers do not want other people to know what they have ordered. We ship all orders in opaque packages without any inscriptions of the contents, so even a courier won't be able to find out what is inside the package.
When you provide your personal information during checkout (credit card details, your address and phone number), you can be calm as our website is encrypted. This is done to ensure that information remains secret from those who are not entitled to see it.
Myth 8: It's illegal to sell generics
This is a false statement. Our generics are 100% legal medicines with the same active substance, dosage form and effectiveness. The major difference between the original drugs and generics is that the latter do not have patent protection, they are released after the patent protection of the original drugs expires.
A necessary requirement for the sale of generics is the proven pharmaceutical, biological and therapeutic equivalence with the original drug.
Generics are produced in strict accordance with established regulations and quality standards. The use of such medications is of great medical and social importance, as it makes high-quality treatment affordable for the general population. The manufacture of generics is a separate branch of the pharmaceutical industry, which is widespread in many countries of the world.
Now you know that Trust Pharmacy is a reliable place for buying drugs and other health-related products. Using our website, you can save a lot by purchasing high-quality generic medications that can easily replace expensive brand-name drugs.