Dysport and Daisies Day! Tuesday, May 13th- ONE DAY ONLY!
Dr. Wheeler, an Annapolis cosmetic surgeon, has teamed up with Medicis to sponsor this special event, bringing substantial savings to customers who receive a Dysport treatment of at least 100 units. Patients attending the Dysport and Daisies event can receive $100 OFF of their treatment that day.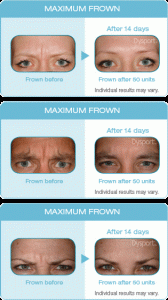 Dysport is effective at treating moderate to severe frown lines, crows feet and forehead lines, restoring a more youthful appearance to the face and temporarily reducing or erasing the signs of aging. This quick treatment- usually 10-20 minutes- can provide results that last for several months or longer with minor additional maintenance treatments.
Find out how Dypsort could provide the "makeover" you desire and take advantage of this one time special offer- contact Sandel Center in Annapolis to reserve your spot on May 13th.